Pet Friendly Flooring
For many of us, a dog or cat is much, much more than "just an animal." They're an important part of the family, offering us both companionship and unconditional love. At Wall to Wall Carpet One Floor & Home, we, too, love sharing our living spaces with our favorite four-legged family members. That's why we take enormous pride in offering one of the region's most expansive collections of pet-friendly flooring. With water-resistant pet-friendly flooring, you won't have to worry about your new floor falling victim to pet stains, heavy wear, or other damages often attributed to our furry friends. In fact, since there are both hard-surface and soft-surface flooring options made to suit all your needs you won't ever feel like you're selling yourself short on your design vision to accommodate Fido and Fluffy. Indeed, modern innovation has given us a myriad of pet-friendly flooring options – including luxury vinyl and carpeting- all of them offering up incredible performance AND incredible style.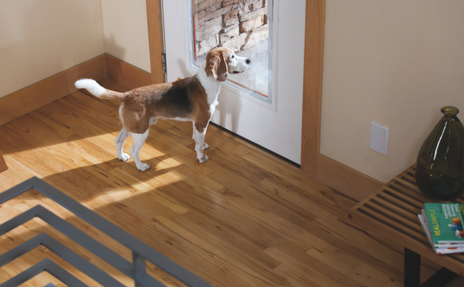 Best Flooring for Pets
You love your home and also your pets: keep on loving both with wonderfully waterproof flooring option made with your household in mind. This flooring can enduring the constant patter of paws and claws, while eliminating any worries of the inevitable "accident." There are hard-surface options that capture the visuals and textures of natural hardwood or actual tile: in fact, these looks are so convincing that your guests will be done the wise.
One of our many amazing options is Invincible H20, which is a revolutionary pet-proof and waterproof luxury vinyl that's exclusively sold at Carpet One stores. You'll love this incredibly durable flooring, bringing all the looks you love.
Best Carpet for Pets
Once considered impossible, today there are plenty of carpeting options for pet owners. Technology has now evolved to the point where we have carpeting designed to combat even the most stubborn stains: in some cases, stains can simply be wiped away! Among our favorite pet-friendly carpets are stunning, yet seriously fierce stain-fighters like LEES .