How to Measure Rooms for Carpets
Before even choosing the type of carpet you want for your home, first you need to measure your room in order to find out how many square feet you will need, which is important to know before you pick out an expensive carpet. Wall to Wall Carpet One Floor & Home is here to help! We offer professional in-home measuring in order to help you make the most educated decision when buying new carpet. We know many of our customers love DIY projects, so below we have compiled some tips on how to measure your room yourself.
Tools you will need include measuring tape or a laser distance measurer, calculator, paper and pencil, and graph paper.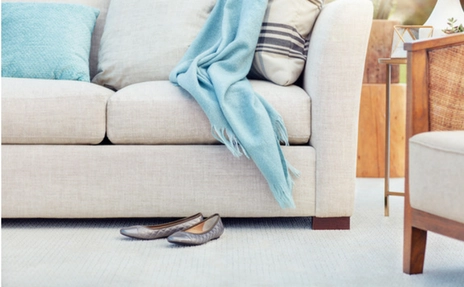 Measure Room Width and Length
Lay your tape measure against the wall at one end of your room, and then extend it to the opposite wall. Or, use a laser distance measurer to find the measurement between the two walls. Do the same for the other two walls in the opposite direction.
If your room is in the shape of an L measure it as two separate rooms, measure the long portion of the L as one room and the short portion of the L as another room.
Closets should be Measured as their own Separate Rooms
Unless your room is entered by a step, all rooms have a doorway leading into them. Some rooms have additional doorways to closets and bathrooms. Always make sure you measure to the middle of the doorway and it will add 2 to 3 inches to your overall measurement.
Calculating Square Footage
Now that you have the measurements and allowances needed, you can begin to calculate the square footage of the room. Multiply the width of the room by the length of the room.
Add a Little Extra
Once you have taken your measurements, you should always add a little extra to your requirements. You can use this as a safety net in case you made a miscalculation. When measuring, add about 3 inches to each piece of carpet you will need.
We hope that these tips are helpful, but measuring a room and get complicated quickly. This is why we recommended hiring a professional. Professionals can provide a more accurate measurement and estimate, which in the end helps you stay within budget and prevent you from ordering too much or too little flooring material. A professional can spot things like uneven sub-floors, odd-shaped rooms, awkward corners or seam placement considerations that may require special steps, like a customized cut, during installation. Be sure to contact us if you need a professional in-home measurement.